Arts/Culture
Thousands celebrate South Africa's new Zulu king
Misuzulu ka Zwelithini has been crowned South Africa's new Zulu king. During his coronation on Saturday, ka Zwelithini rejected those who questioned his claim to the throne of the largest ethnic group in South Africa.
Two of his siblings were preferred by some Zulu family members to succeed their father. Even though these members of the royal family questioned whether he had the right to succeed his late father, King Goodwill Zwelithini, the newly crowned king was nevertheless given the title.
With over a thousand participants dressed in traditional Zulu regalia, the celebration was a vibrant exhibition of traditional Zulu culture.
As they anticipated the coming of the new king, women wearing traditional beads, skirts, and headgear danced and sung Zulu hymns and proverbs.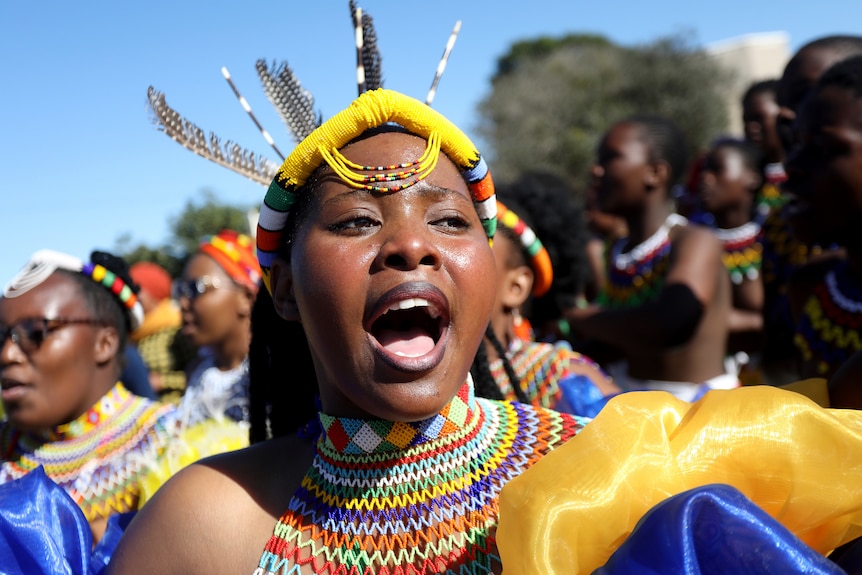 Numerous Zulu regiments, known as amabutho, marched towards the Royal Palace while chanting in support of their new leader, carrying traditional shields, spears, and sticks.
While women prepared and brewed traditional Sorghum beer, the men butchered an estimated 50 cattle.
The new king underwent a customary ceremony known as ukungena esibayeni (entering the kraal) to commemorate the start of his rule as king before making his first speech before a sizable assembly.
He urged unity within the Zulu people and praised Cyril Ramaphosa, the president of South Africa, for recognising him as the legitimate heir to the kingdom.
READ ALSO: Art collection returns to Zimbabwe after 70 years 
"I know that you are aware of the state of the royal family in recent times," ka Zwelithini said. 
"I request that whatever you hear in the media, and the comments being made by those disputing the throne, you should hear them but you should not listen to them."
At a ceremony later this year, Mr. Ramaphosa will present him with a certificate recognising him as the new king.
Traditional leaders from ethnic communities with Zulu ancestry from other African nations, including as Zambia and Malawi, also attended the coronation.
With more than 12 million members, the Zulu ethnic group is the largest in South Africa. Its members are primarily concentrated in the KwaZulu-Natal province.
They are renowned for their tenacious opposition to British colonialism in the early 1800s, led by King Shaka Zulu.
The new king is undoubtedly the most powerful traditional leader in South Africa as the head of the 12 million-strong Zulu nation, which controls roughly 28,000 square kilometres of land in KwaZulu-Natal.
Source: News Agencies
READ ALSO: Ghana's Pan African Heritage Museum seeks to reclaim Africa's history
Abeeb Lekan Sodiq is a Managing Editor & Writer at theafricandream.net. He is as well a Graphics Designer and also known as Arakunrin Lekan.