A former, Assistant Director of Pharmacy and Director of the Residency Program of the Pharmacy Department at the Virginia Hospital Center in the United States (US), Dr. Nyame-Mireku returned to Ghana in a bid to give a face-lift to the provision of quality and affordable pharmaceutical services in Kumasi — the Ashanti Region of Ghana.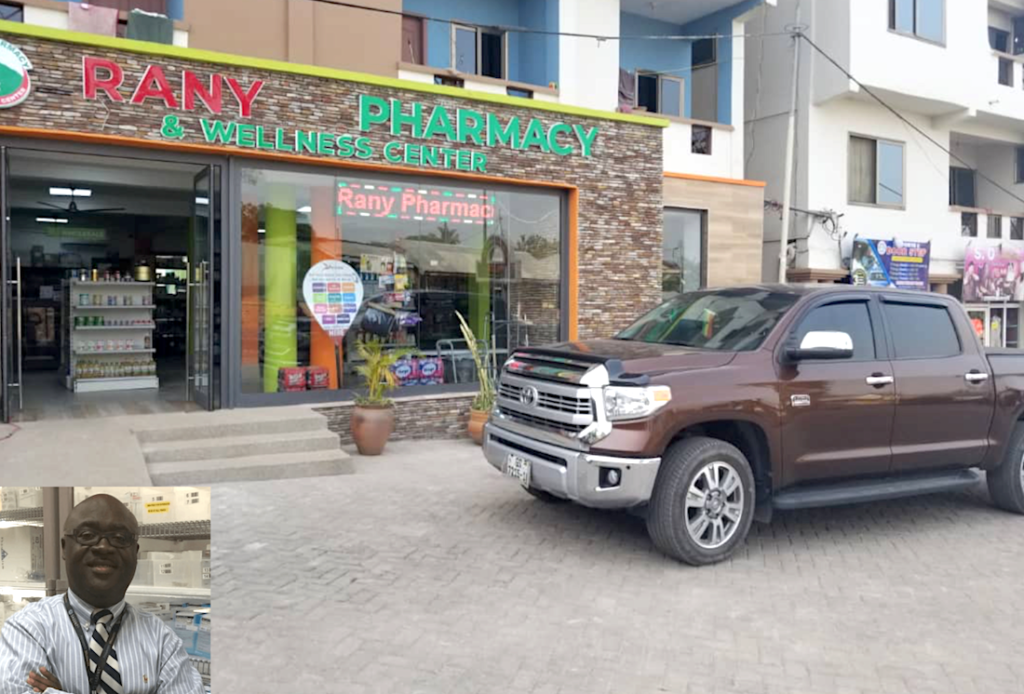 Dr. Nyame-Mireku who resigned from his job in the US, last year returned to Ghana to venture into the pharmaceutical sector. As a result he opened a retail company known as Rany Pharmacy and Wellness Center in the heart of the Garden city of Ghana at Roman Hill.
With the quest to make Rany Pharmacy and Wellness Center, a hub for quality and affordable pharmaceutical services, Dr. Nyame-Mireku has opened a second branch of the pharmacy at Ayeduase at the premises of the Nyame-Mireku Plaza hostel to provide services to the student population of the University of Science and Technology and its environs.
The New facility is a one-stop-shop that comes with retail, wholesale components, an inbuilt clinic, and a laboratory to give clients a holistic health care package.
"When you come to my facility, you will be taken very good care of. For example, you can see a physician who can diagnose you if you need any diagnostic tests, or you can obtain expert medical advice or referral. Or, you could grocery shop while you wait for you medicines or test results. We want you to have the complete experience," said Dr. Nyame-Mireku to TheAfricanDream.net reporter Mavis Okyere.
Read also: Dr. Michael Nana Nyame-Mireku wants Africa to make it enticing for Diaspora Professionals to return to the continent
Dr. Nyame-Mireku told TheAfricanDream.net that, since he returned to Ghana, he realized that the pharmacist is the most accessible and affordable health care provider in the Country: "many times patients will have to wait in long queues before being attended to at various health facilities, we want to cut the wait time but also make it a great experience in a most professional ambience," he said.
"I think the reason why the Pharmacist is easily approachable and the first point-of-call for many Ghanaians before seeing a Doctor is firstly, you have to make an appointment to go stay in a line for a long time to see a Doctor. You pay for consultation fees and diagnosis as well as for medications. The process is tedious, especially for those without health insurance," he explained.
He went on to say it is important to have knowledgeable and experienced Pharmacists in various communities in the country because they help save the entire health system so much money.
Dr. Nyame-Mireku also questioned the quality of some drugs on the Ghanaian market, noting that sometimes people do not know whether the drugs they buy are authentic. He says with his links in the US and the UK, he hopes to get some difficult to obtain medications into Ghana at affordable prices.
Before leaving Ghana in 1991, Dr. Nyame-Mireku completed the Kwame Nkrumah University of Science and Technology in Kumasi.
In the US he worked with the Virginia Hospital Center from 2003, rising through the ranks of a Pharmacy Clinical Coordinator.
Dr. Nyame-Mireku also holds a second PhD in Organization and Management and a Master's in Information Technology. He also holds two US pharmacy specialty board certifications in Nutrition and Pharmacotherapy.
Visit www.facebook.com/ranypharmacyandwellnesscenter to learn more about Rany Pharmacy and Wellness Center.
Written by Mavis Okyere