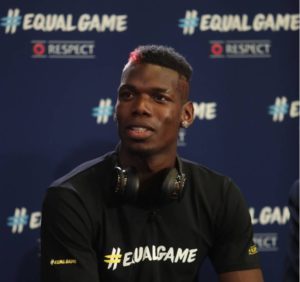 MONTE CARLO, August 24, 2017 – UEFA has expanded its nine-year-old anti-racism campaign to embrace a wide-ranging agenda across the diversity sphere.
The upgrade, entitled #EqualGame, may be the most ambitious version created and promoted by any international sports federation and – by coincidence – catches one of the most high-profile of social concerns far beyond Europe itself.
Aleksander Ceferin, president of European football's governing body, described UEFA earlier this year as a "social fair play organisation."
UEFA, at a time when soccer world federation FIFA has appeared to drop the anti-racism baton amid its own internal difficulties, could hardly have struck a more appropriate moment at which to nail its flag so decisively to the anti-discrimination mast.
Nor could it have more high-profile lead ambassadors such as Cristiano Ronaldo, Lionel Messi and Paul Pogba. Manchester United's France midfielder stepped up to the promotional plate in Monaco ahead of the Champions League draw.
A pity that Ada Hegerberg was apparently prevented by club commitments with French club Lyon from adding a women's football face to the campaign launch.
UEFA launched its 'Prevent' promotion in 2008 which was upgraded into the 'No to Racism' campaign in 2013. The decision to widen the anti-discrimination message was driven by responses to a fans' survey after last year's European Championship finals in France.
Inclusion and accessibility were two of the notable demands which embraced specific themes such as gender diversity and ageism.
Click here for more sports related reads
Corporate communications director Peter Klomp described the message of the new campaign as "helping more people find their way to football and also finding their way back to football – everyone is entitled to enjoy this game."
Pogba said: "When I was young, with my friends, we discovered no matter who you are, and wherever you're from, there's a way to get involved and enjoy football, no matter what, small or big.
"If we can improve the diversity and access to football, the game will grow and be better for everyone. I think football can help bring communities together and show, on and off the pitch, we are all equal."
Ceferin underlined the point, saying: "This is very important for UEFA and for European and world football. We have to promote diversity and inclusion and accessibility. It's not about football, it's about promoting that through the power of football in our daily lives."
UEFA president Aleksander Ceferin – putting his shirt on the new campaign said:
"What is important is that you don't just make TV spots, you have to act. There is a perception that players care only about their contracts but all our ambassadors have shown something different and have done much more than we have asked of them."
Source: Keir Radnedge, AIPS Football Commission Chairman