Ella Livingston, born in Kokofu, Ghana, was just 3 years old when she, her brother and her parents immigrated to the United States, so it's only natural that she remembers very little of her early childhood there.
"The only flashback I have is sitting in some sort of public vehicle transportation — maybe a train or a bus — and looking out the window," she says.
While her early life memories are hazy, she brought with her an inborn appreciation for chocolate, specifically cocoa, one of the top exports of the West African country where her family owned several farms that produced cacao, the unprocessed version of cocoa.
And in 2018, Livingston opened Cocoa Asante in Chattanooga, which saw a huge spike in sales beginning in March after a TikTok influencer discovered her chocolates and gave her a glowing review on the platform.
The road to cocoa Asante
Livingston attended Atlanta's Spelman College and, with a passion for teaching, embarked on a career in education following graduation. While studying abroad in Japan, though, she discovered a global appreciation for Ghanaian chocolates.
In 2016, she came to Chattanooga to attend a residency program, Project Inspire, for continuing education for those wanting to pursue teaching careers. Her initial plan was to stay in Chattanooga for four years, the length of time it would take to complete the program.
But that changed when she met her now-husband and stayed in town. That's when her thoughts of bringing Ghanaian chocolates to Chattanooga began to take root. She thought she could continue to teach full-time while making chocolates on the side.
Cocoa Asante began as a home-based business, but it didn't take long for the business to outgrow her home kitchen, so she shifted her base to the INCubator, a program of the Chattanooga Area Chamber of Commerce and the largest business incubator in Tennessee. The incubator offers a commercial kitchen where she makes confections with chocolate made from Ghanaian cacao beans.
To ensure the cacao beans come directly from her native country before being processed into cocoa in Europe, she makes purchases through a European Fair Trade brand that provides supply-chain transparency. "This allows us to stay authentic to our mission as we grow into a bean-to-bar brand," Livingston says.
Bean to bar
While Cocoa Asante uses cocoa processed from beans grown in Ghana, Livington's goal is to import cacao beans to process into cocoa in-house.
"When we become bean-to-bar, we plan on sourcing from my family's farm, becoming one of the few chocolate companies in the world to source from their very own farm," she says. "This transition has so many benefits, including providing the ability to pay farmers and laborers a livable wage, as well as address various issues of exploitation."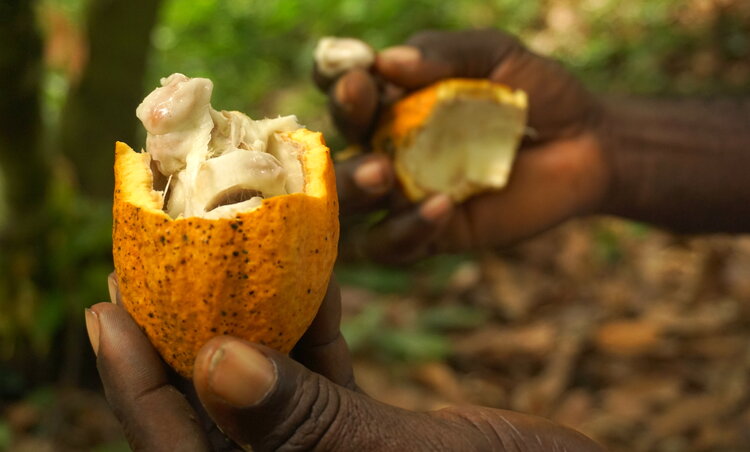 While she admits she has a way to go before becoming a bean-to-bar business, she says accomplishing her mission is very important to her and "is the driving factor behind every decision I make."
Choice chocolates
There are three kinds of chocolate made at Cocoa Asante — dark, milk and white. For each, there are a minimum of 12 bonbon flavors, such as Chai Pecan Caramel, red wine and dark chocolate, brown butter sage and more. She also features bonbons made with Chattanooga Whiskey.
"As a small business, we've seen the impact that supporting local has had," she says. "We want to ensure that as we impact a global industry, we also make an impact in our city. We love featuring key ingredients from Black-owned, women-owned, veteran-owned and other small businesses."
All products are pre-boxed, but custom orders are accepted for large corporate and personal orders and as party favors.
Learning the art of chocolate
There's a science behind the art of chocolate, one that Livingston taught herself. She works alongside a head chocolatier who has formal training.
Making beautiful chocolate is extremely technical, she says. The process? Knowing how to temper it perfectly, bringing it to a certain temperature, then cooling it down in just the right way that it sets up perfectly to attain the desired five "S's," which are: shiny; smooth; snaps when broken; shrinks as it sets; stays solid at warmer temperatures.
"You can't just melt the chocolate and create bonbons," she says. "Dark, milk and white chocolate all have different tempering temperatures, and if you mess up the temperature by several degrees, you'll have to start over."
Want to learn how to make those beautiful chocolates yourself? Cocoa Asante offers classes.
"Like many things, you don't often think about the work that it takes to produce a particular product," Livingston explains. "People taking our classes have begun to appreciate the artistry that it takes to create our amazing bonbons — even more than they already did."
Classes are perfect for a mother-daughter bonding experience, but couples have signed up, too, as have groups of friends and even companies for team-building opportunities.
"Some people are fans of Cocoa Asante, and some people are just fans of chocolate," Livingston says.
Cocoa Asante is located at 100 Cherokee Blvd. For more information and the class schedule, visit cocoaasante.com.
Source: Chattanooga Times
Oral Ofori is Founder and Publisher at www.TheAfricanDream.net, a digital storyteller and producer, and also an information and research consultant.